Baroque and Rococo Art

(Italian text by AnnaLisa Limardi - Translation & adaptation by Domenico Russumanno).​
During the 17th century, Baroque architecture spread through Europe and Latin America, where it was particularly promoted by the Jesuits. The word "Baroque", like most periodic or stylistic designations, was invented by later critics rather than practitioners of the arts in the 17th and early 18th centuries.
It is a French transliteration of the Portuguese phrase "pérola barroca", which means "irregular pearl", and natural pearls that deviate from the usual, regular forms so they do not have an axis of rotation are known as "baroque pearls".
The leading figures in Baroque architecture were Francesco Borromini and Gian Lorenzo Bernini , both active in Rome for much of the 17th century. Two masters with very different personalities.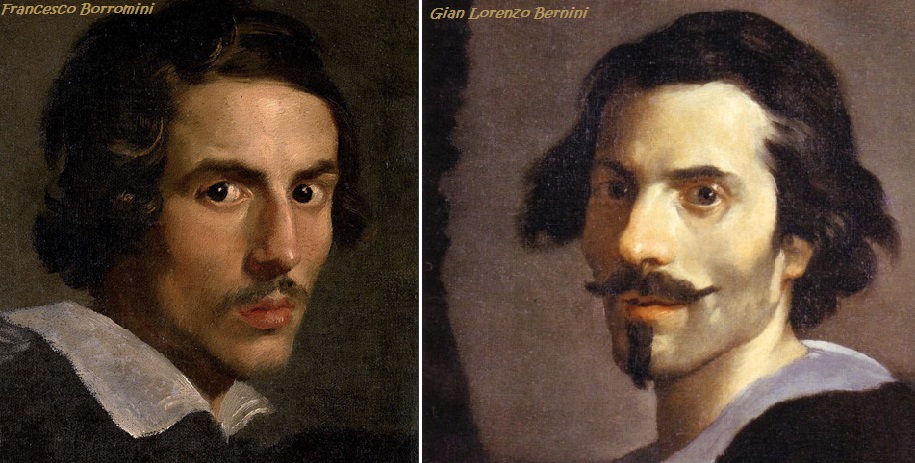 In sculpture the amazing skill of Gian Lorenzo Bernini, active above all in Rome, was outstanding (Ecstasy of S. Teresa, Rome, S. Maria della Vittoria). ​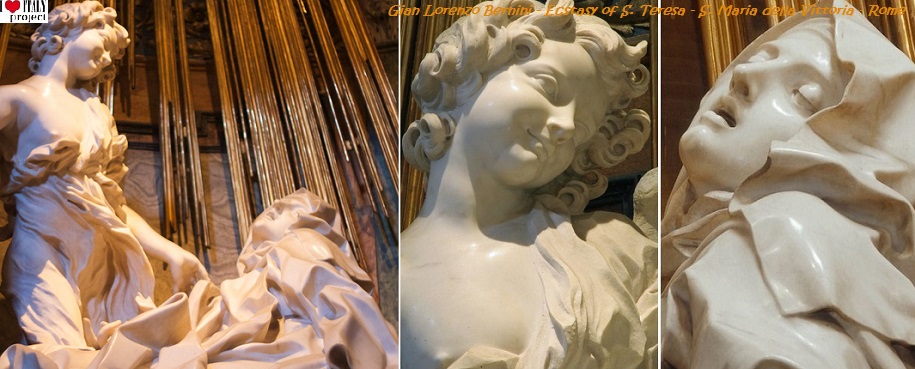 Bernini (who was also responsible for the great bronze Baldacchino inside the San Peter Basilica in Rome, and the church of S. Andrea al Quirinale) opened up spaces and linked them together in a spectacular fashion, creating effects of movement and continual transformation through the skillful use of light.
The monumental Baldacchino was commissioned by Pope Urban VIII in 1623 and completed in 1634.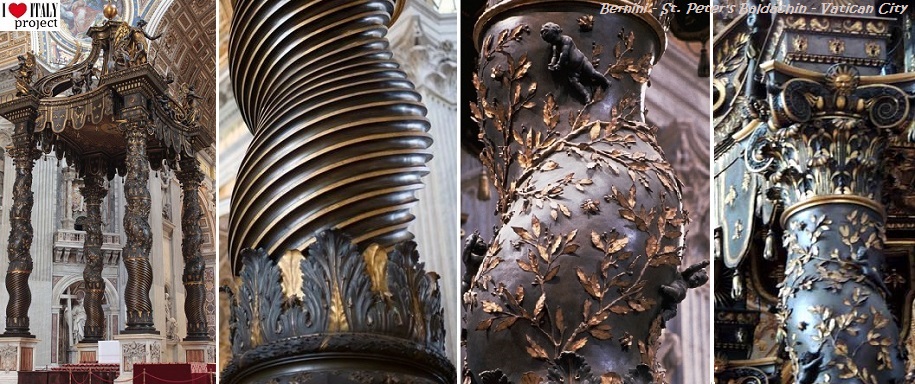 The large Baroque sculpted bronze canopy, itself a very large structure, forms a visual mediation between the enormous scale of the building and the human scale of the people officiating at the religious ceremonies.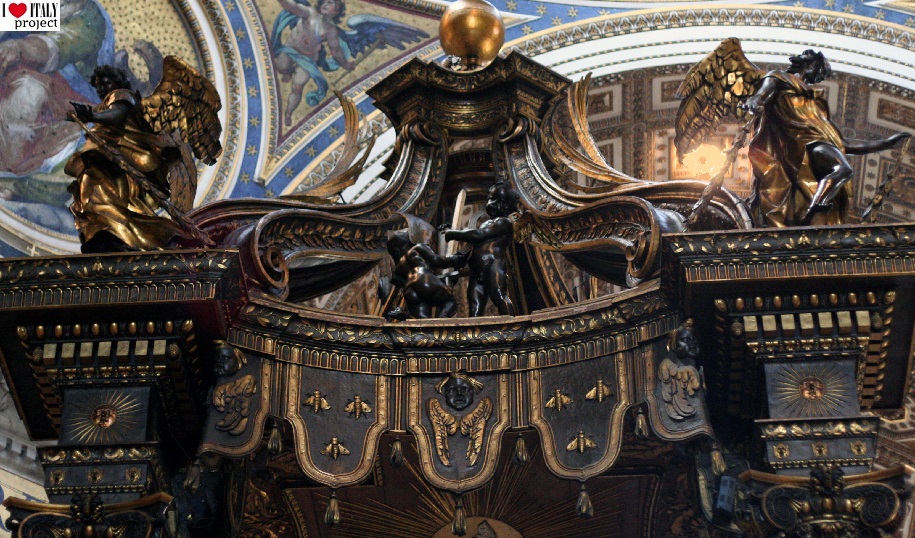 Bonomini (the architect of the Oratorio dei Filippini and S. Ivo alla Sapienza) played with contrasts of force and tension, pulling back the surfaces of walls, bending them or creating whirling effects of vertical thrust.
The Oratorio dei Filippini (Oratory of Saint Phillip Neri) was erected between 1637 and 1650.
The main body is divided into five parts by pilasters following a concave curve. At the top, the tympanum, created for the first time after an mistiligne angle, accentuates the both curved and angular movement.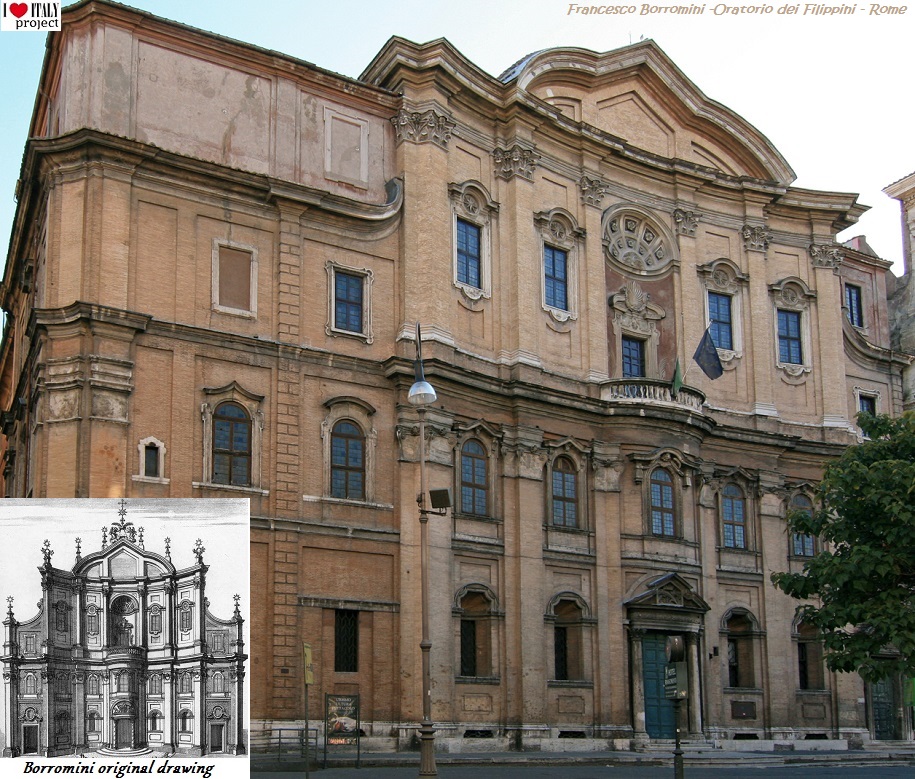 In the central part, a dialectic set appears between the lower level, whose curve moves outward.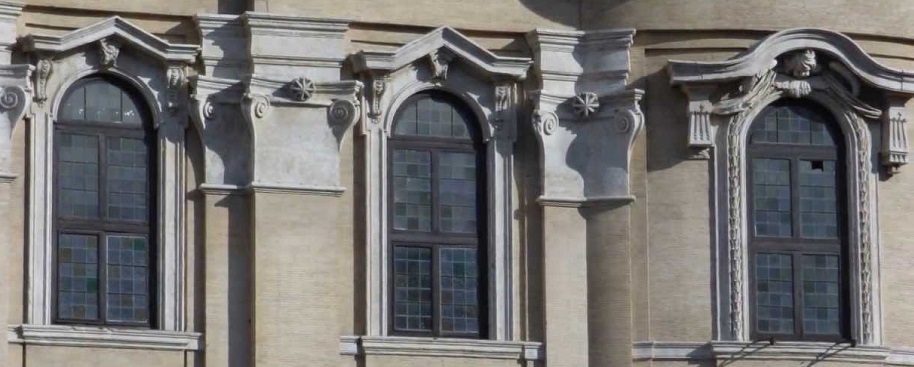 Borromini was employed in the task for 13 years, and by 1640, the oratory was in use, and by 1643, the library, called the Biblioteca Vallicelliana, was complete.

The present day face of the city, squares with obelisks and fountains, flights of steps and spectacular facades, was created in the course of the century.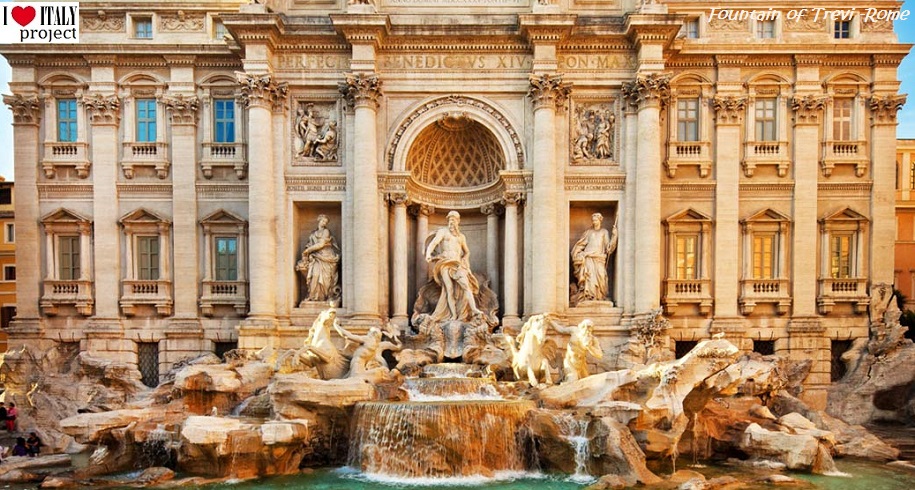 Baroque art differs from Classical art in that it aims to involve the spectator, appealing to their imagination, physical senses and feelings rather than his reason.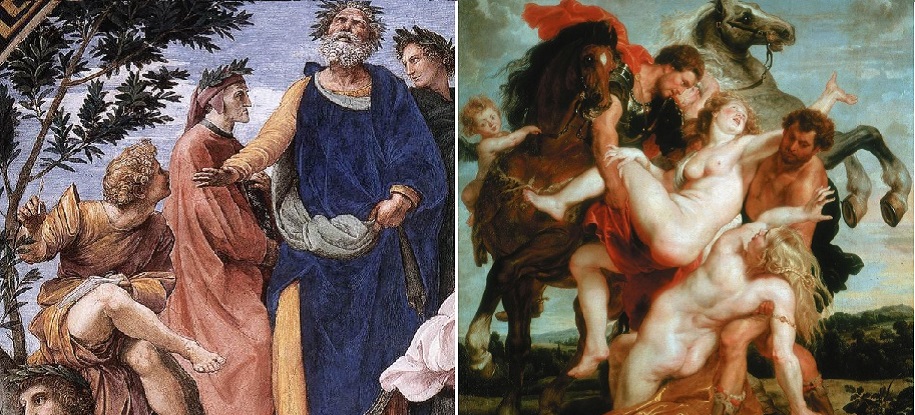 It has to win them over by exciting strong emotions and a sense of awe. In a sense it is the overpowering of the rational by the irrational, the search of a new balance, now freed from Classical restraints. However, the two styles lived side by side and even blended in many cases.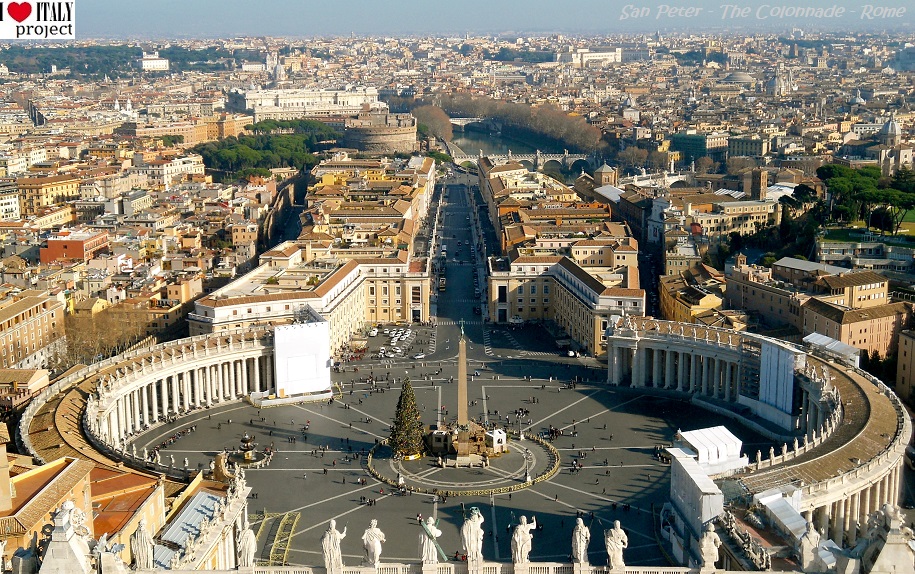 The Church of S. Maria della Salute (the Venetian Masterpiece of Baldasarre Longhena), for example, is Classical in its overall plan but Baroque in its imaginative decoration. The church stands on the narrow finger of Punta della Dogana, between the Grand Canal and the Giudecca Canal, at the Bacino di San Marco in Venice.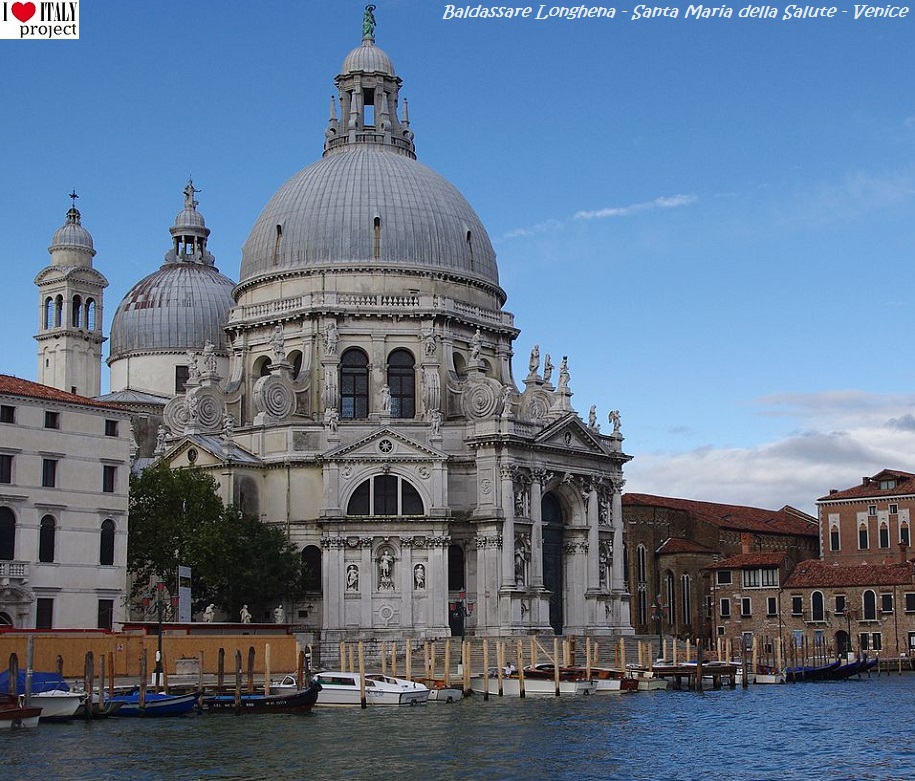 Known as the Cappella della Sacra Sindone (Chapel of the Holy Shroud) in the northern city of Turin (Piemonte region), designed by the architect Guerino Guarini and built at the end of the 17th century (1668–94), during the reign of Charles Emmanuel II, Duke of Savoy. The chapel was constructed to house the Shroud, a religious relic believed by many to be the burial shroud of Jesus of Nazareth.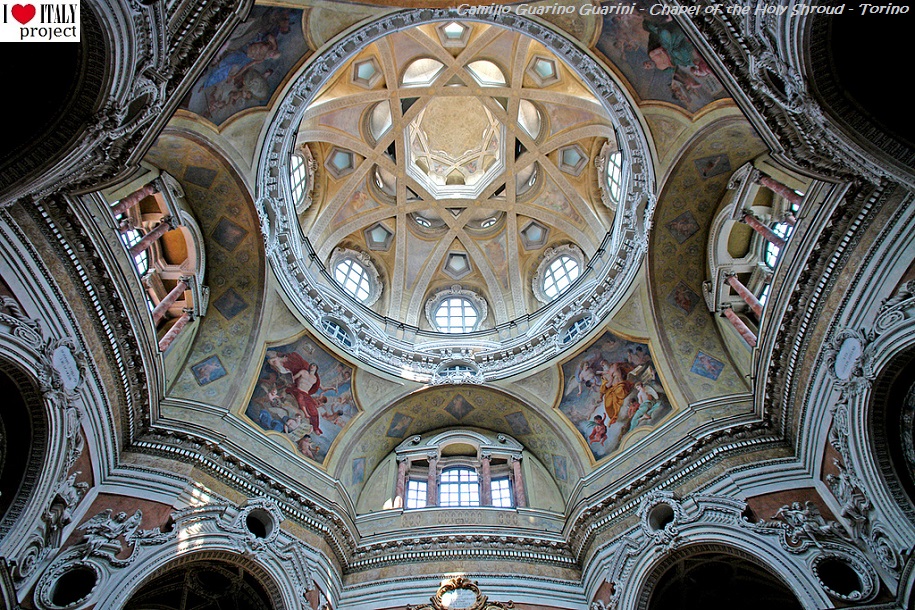 Unlike other regions where architects had the advantage of planning completely new monuments with lavish exteriors, Neapolitan artists and their sponsors, due to lack of real estate, were forced to concentrated their creativity on the interior of existing structures rather then the outside.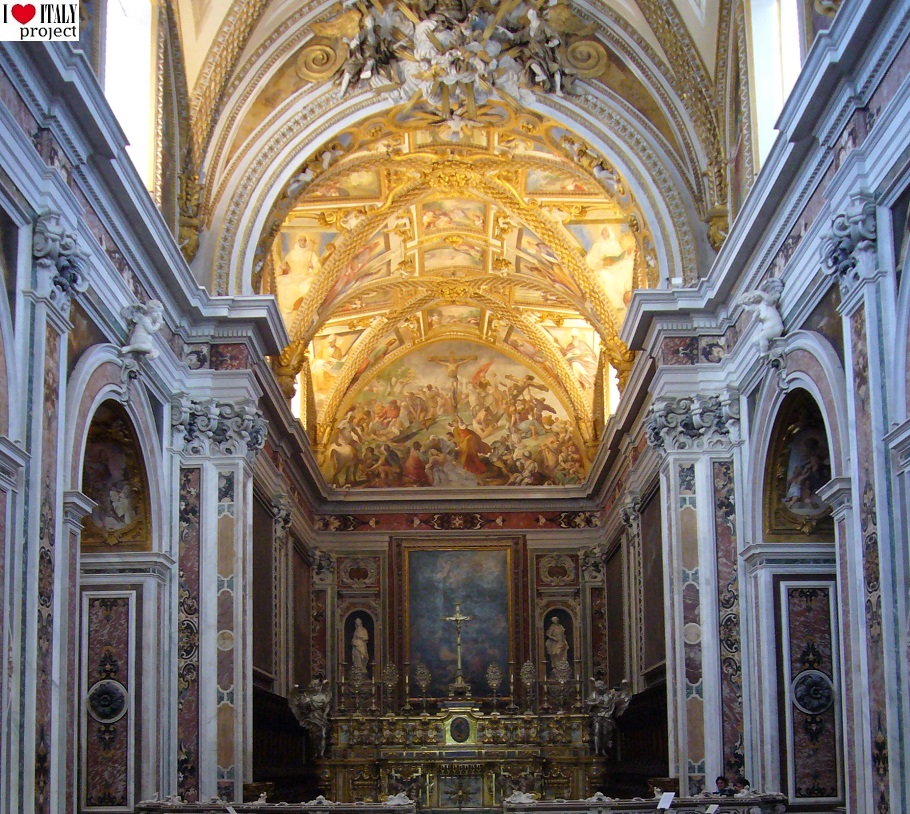 The fountain of the Tritone, by Bernini, was executed in 1642–43. It is located in Piazza Barberini
(Barberini Square) and should not be confused with the the nearby Fontana dei Tritoni in Piazza Bocca della Verita by Francesco Bizzaccheri. The Tritone, the first of Bernini's free-standing urban fountains, was erected to provide water from the Acqua Felice aqueduct.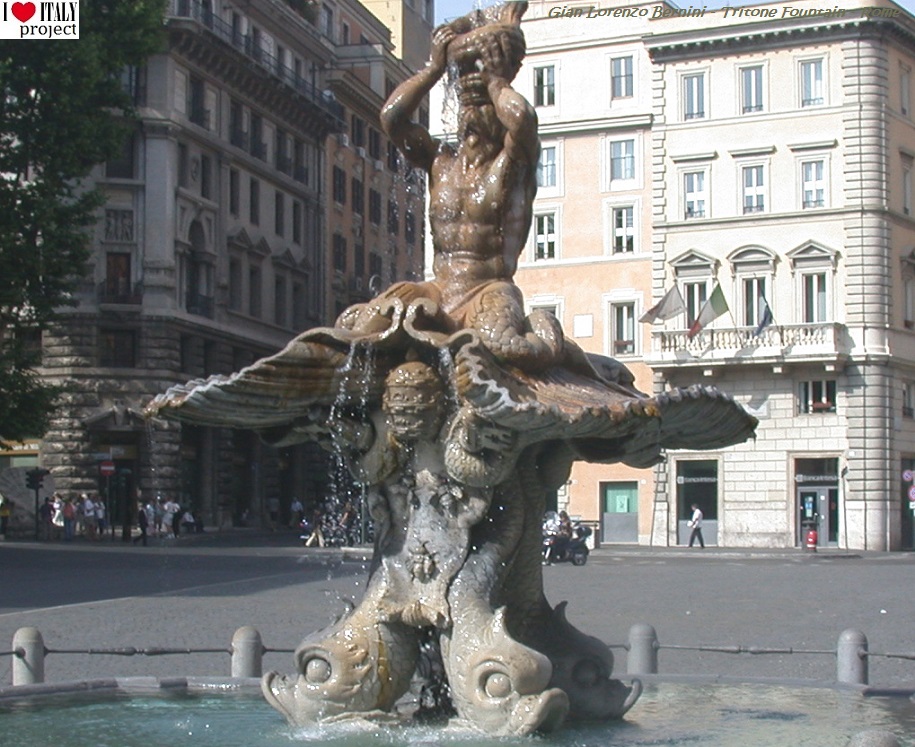 The splendor of Baroque architecture, often with original features, is evident throughout Italy, particularly in the south, in the pomp of palaces and churches of Naples.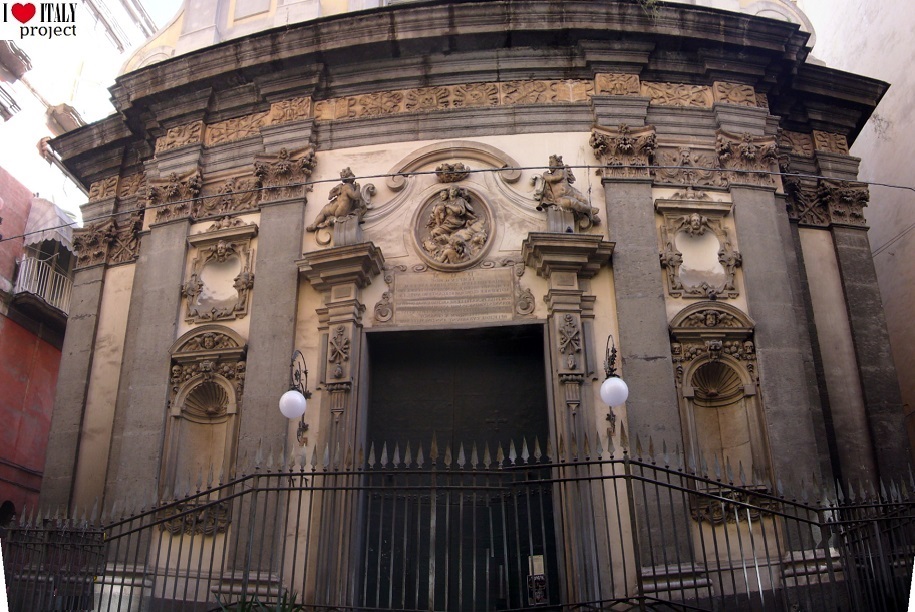 ...and also in Sicily, where whole towns (Catania, Noto) were rebuilt after severe earthquakes following a coordinated Baroque project incorporating architecture and town planning.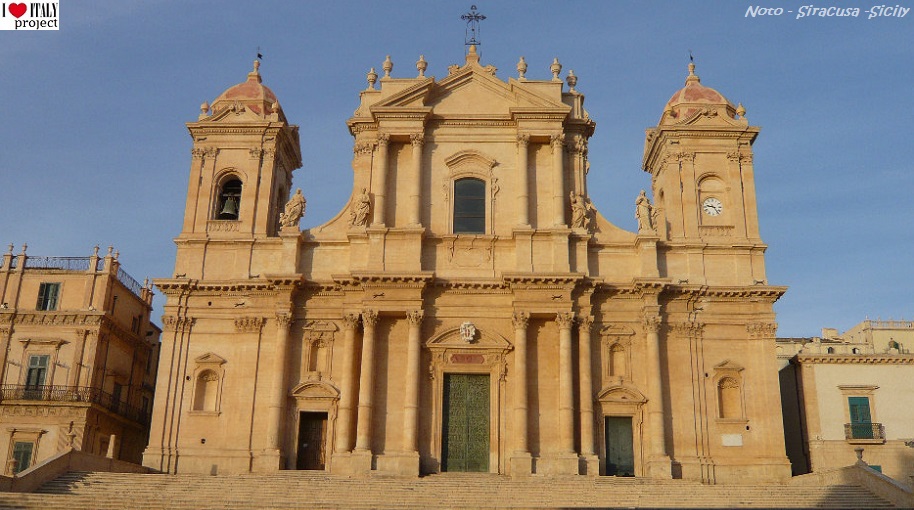 In Lecce this style is manifested particularly in the rich elaborate decoration of facades.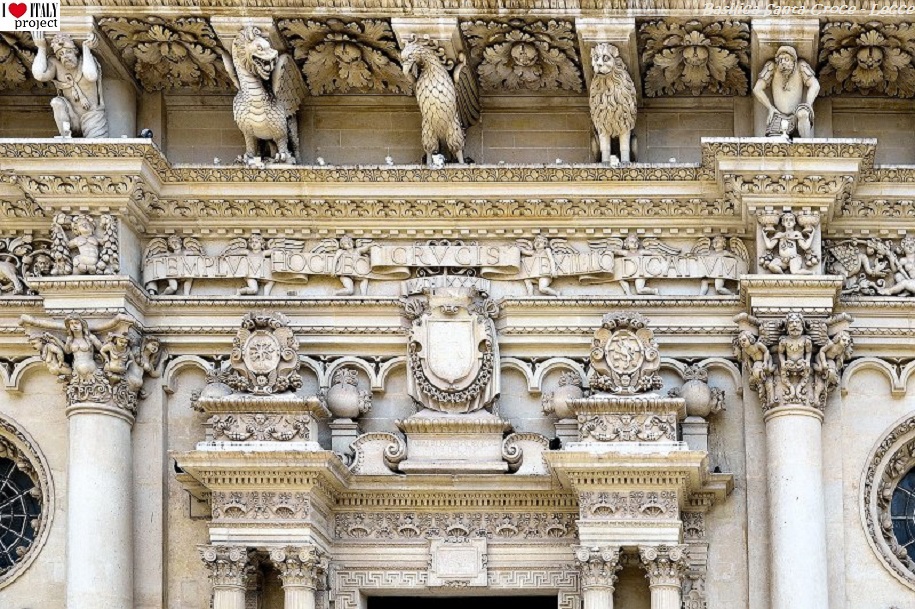 In the 18th century there was refinement of lines and forms, which became lighter and more delicate, and a change in taste with regard to interior decoration, which grew more exquisite, using delicate materials (mirrors, lacquered woods, wallpaper) and exotic fancies, following the style that became known as "Rococo".
The work of Filippo Juvara in Turin (Palazzo Madama, Villa Reale, Stupinigi) is a typical example of this style. The palace was designed to be used as a palazzina di caccia ("hunting lodge") for Victor Amadeus II, King of Sardinia.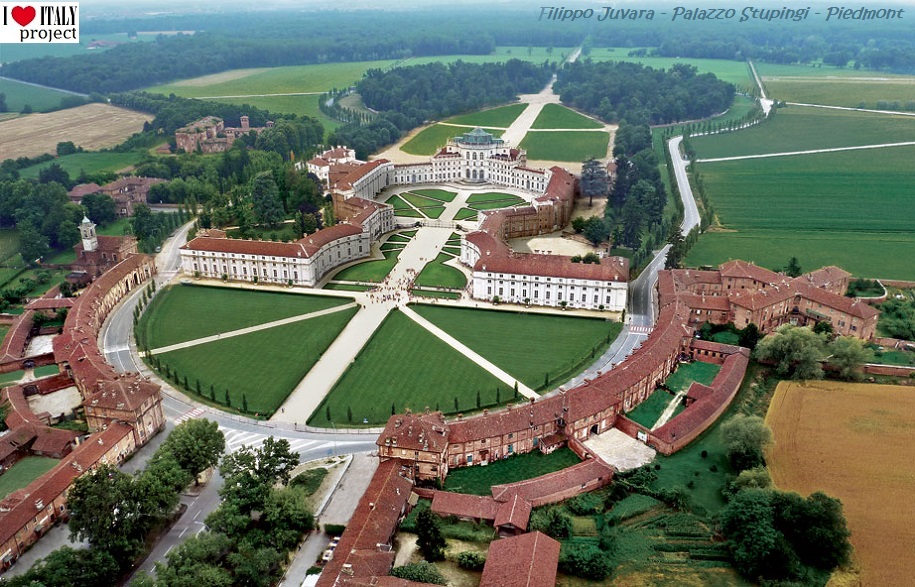 Stupinigi was the preferred building to be used for celebrations and dynastic weddings by members of the House of Savoy. Here, in 1773, Maria Teresa, Princess of Savoy, married Charles Philippe, Count of Artois, brother of Louis XVI and the future Charles X of France.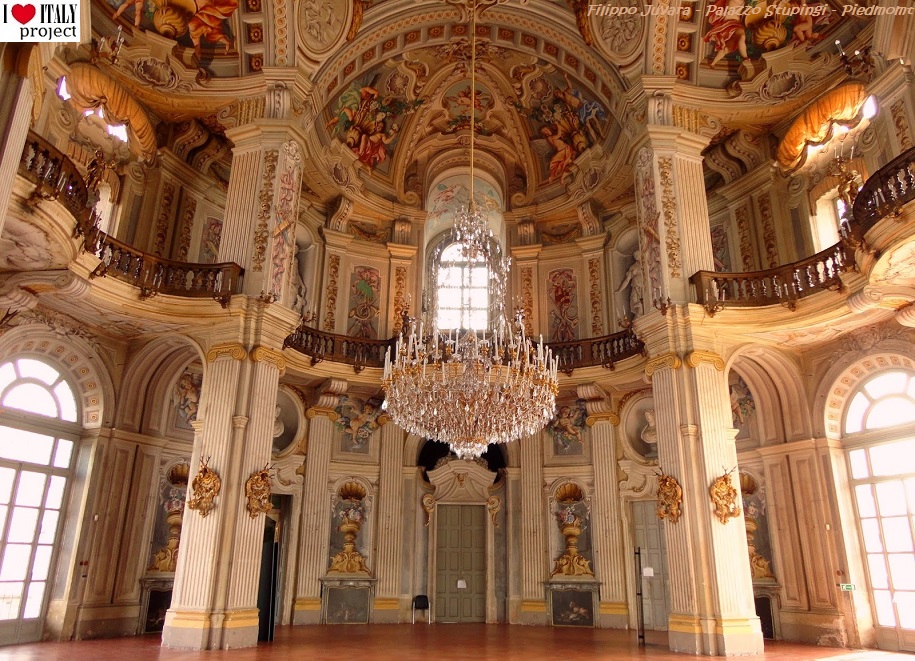 In the early 1600's Caravaggio's painting aroused scandal and admiration in Rome through its dramatic use of light, the crude realism of the scenes and the humble everyday appearance of the protagonists (Calling and Martrydom of St. Matthew, Rome, S.Luigi dei Francesi).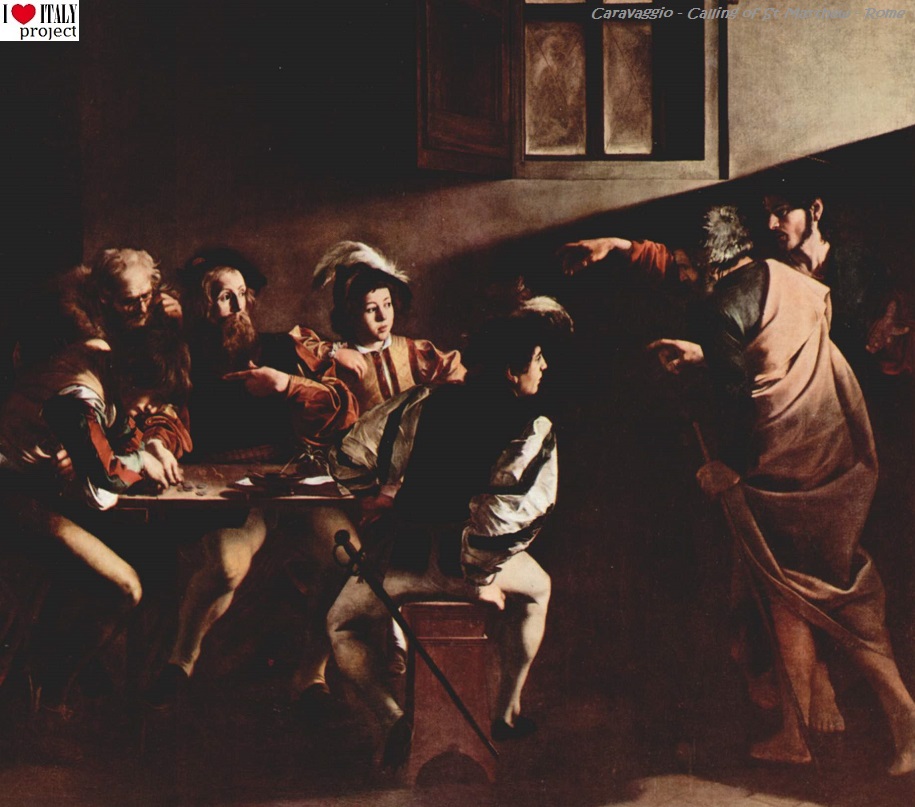 ...Meanwhile the art of the Carraccis (Frescoes on the vault of the Galleria Farnese, Rome)...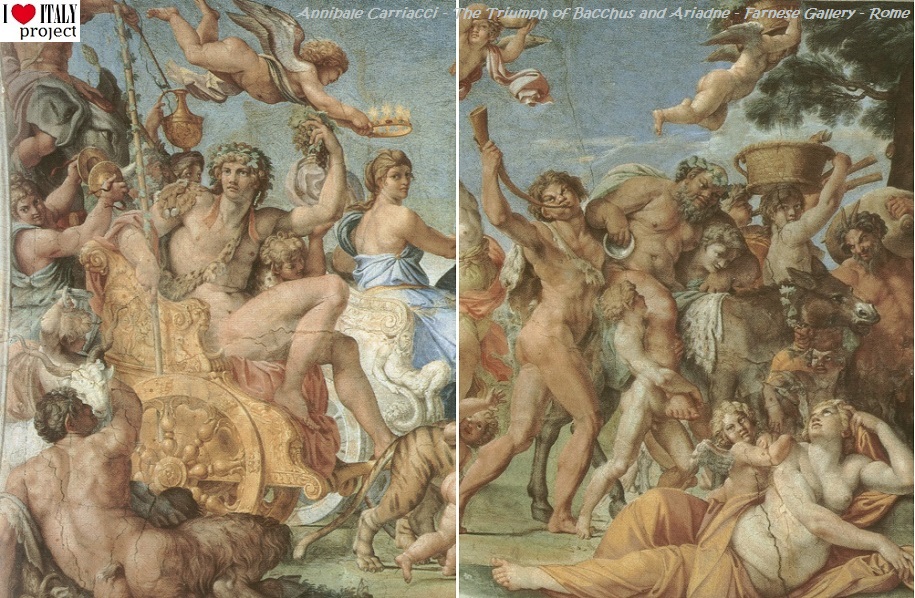 ...and then of Guido Reni (Massacre of the Innocents, Bologna, Pinacoteca Nazionale)...The painting is based on the biblical episode of the Massacre of the Innocents, described in the Gospel of Matthew.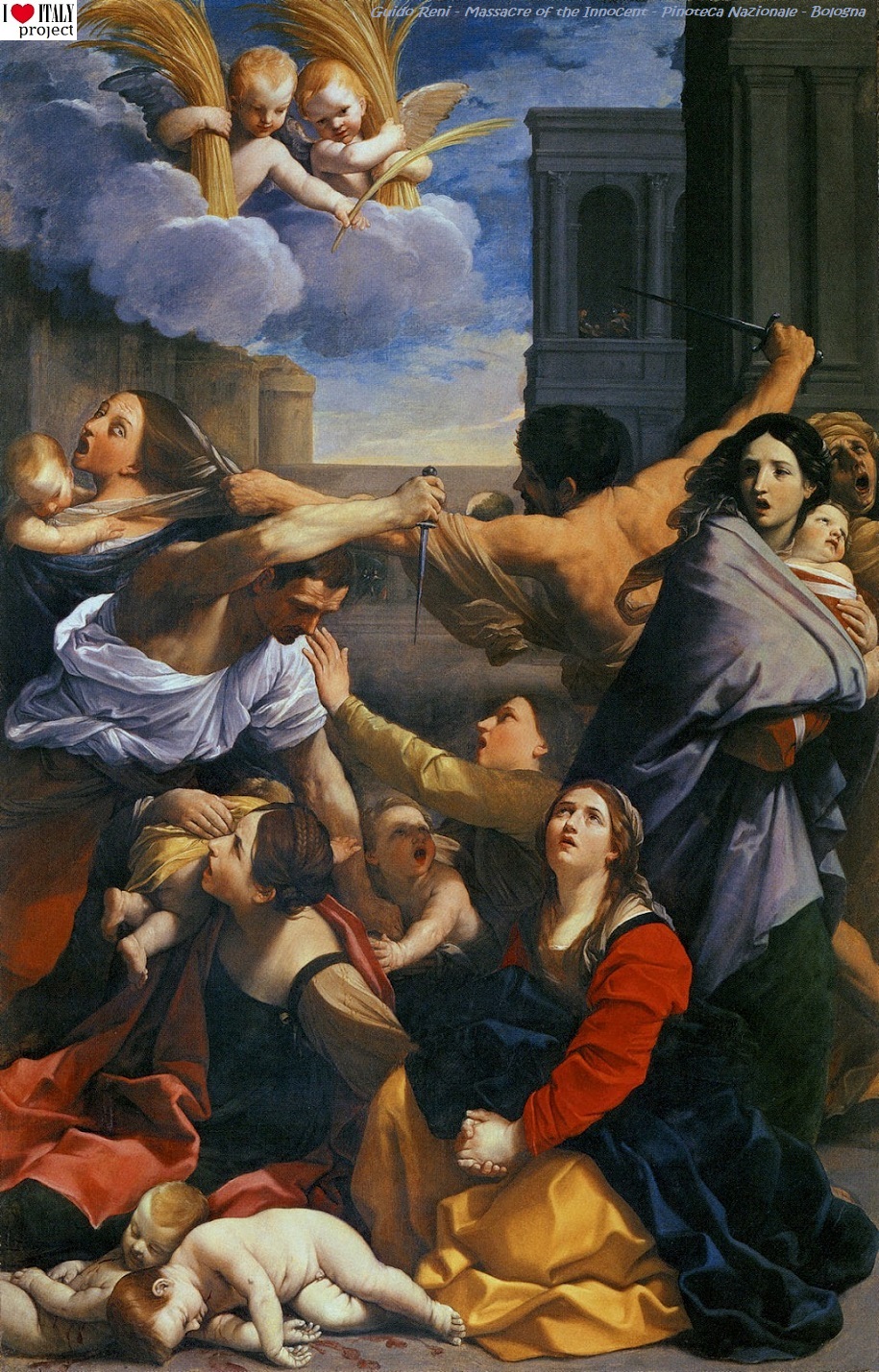 ...and Guercino (Et in Arcadia ego, Rome, Galleria Corsini) flourished in Bologna, initiating a new Classical current. The painting shows two young shepherds staring at a skull, with a mouse and a blowfly, placed onto a cippus with the words Et in Arcadia ego ("I too [was] in Arcadia")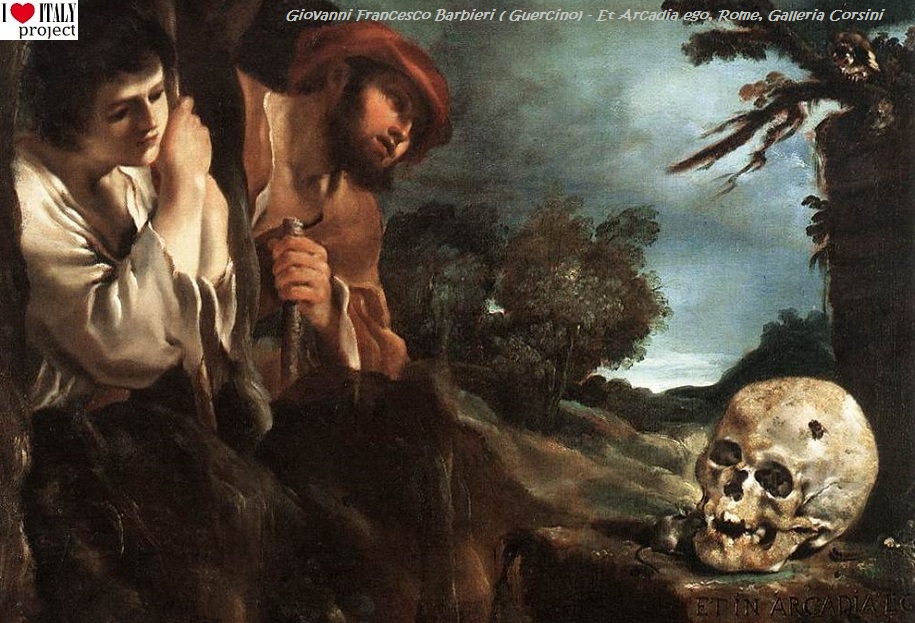 Little known outside Italy is baroque Palazzo Labia built in the 17th–18th century.
The palace is notable for the remarkable frescoed ballroom by Giovanni Battista Tiepolo. The scene below depicts the meeting of Cleopatra and Mark Antony.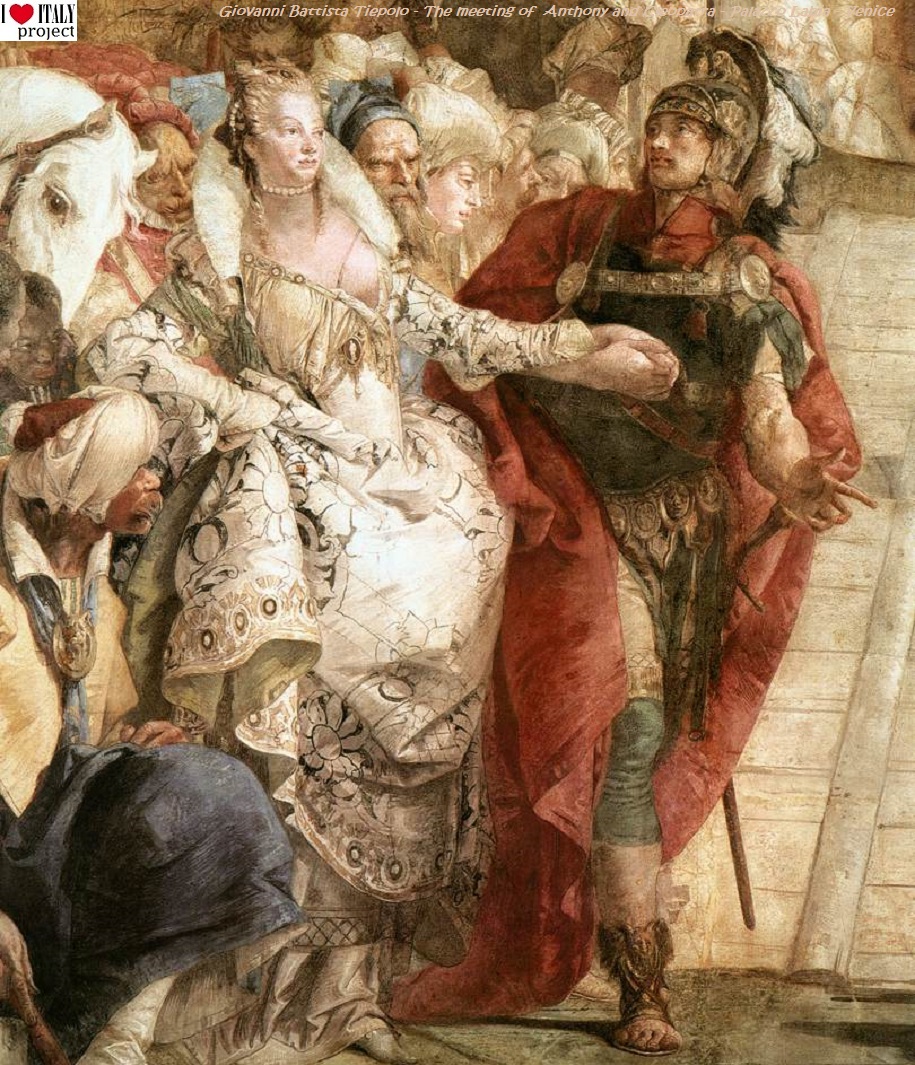 Illusionism and virtuosity were the hallmarks of the Baroque painting which dominated for much of the century.
The vaults and ceilings of churches and palaces were covered by skies populated by religious and mythological figures and mock architecture.
One of its greatest practitioners were Pietro da Cortona (Triumph of Divine Providence, Rome, Palazzo Barberini).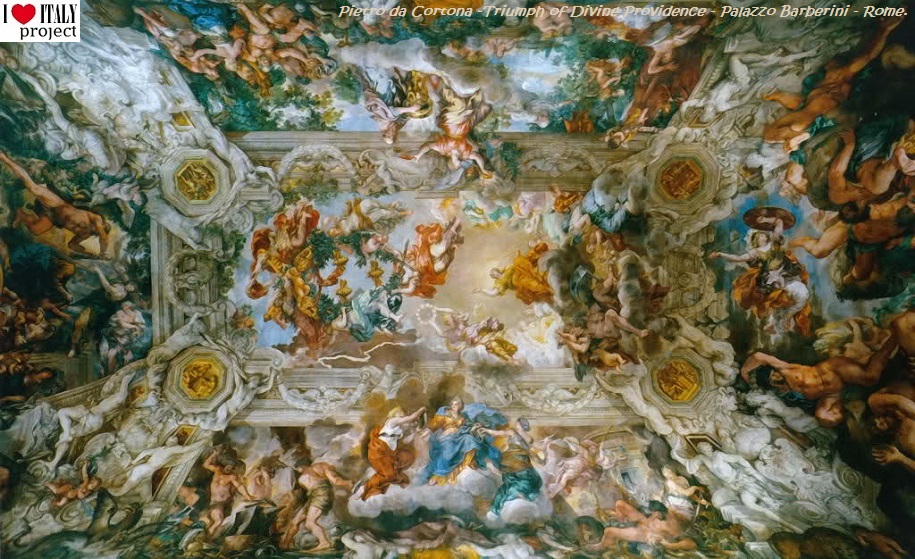 The painting and sculpture of the 18th century maintained the character of the previous century but replaced dramatic tension with a more refined and joyful elegance.
The great mural decorations of Gian Batista Tiepolo are examples of this style (Frescoes in the Archbishops Palace, Udine).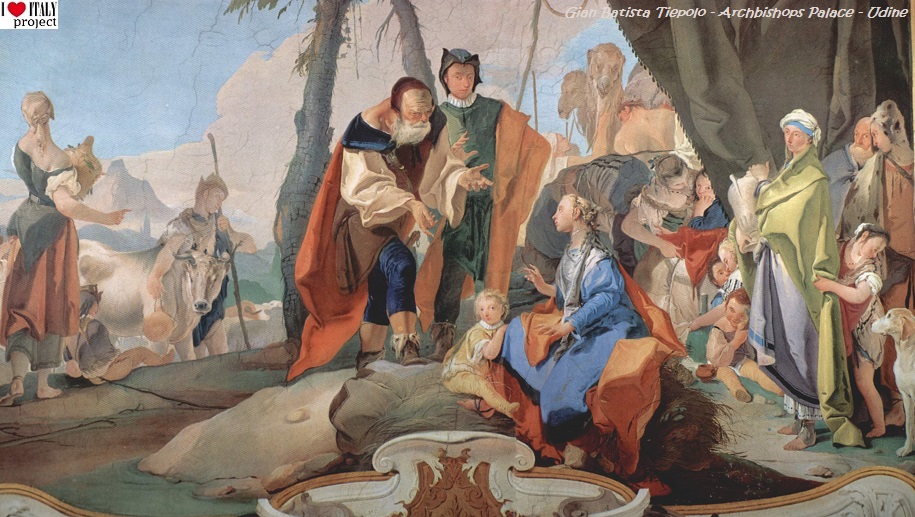 Precise detail on the other hand, is one of the characteristics in Canaletto's cityscapes (View of the milo from the basin of S. Marco, Florence, Uffizi).
Neoclassicism originated in the renewed study of antiquity at the end of the century.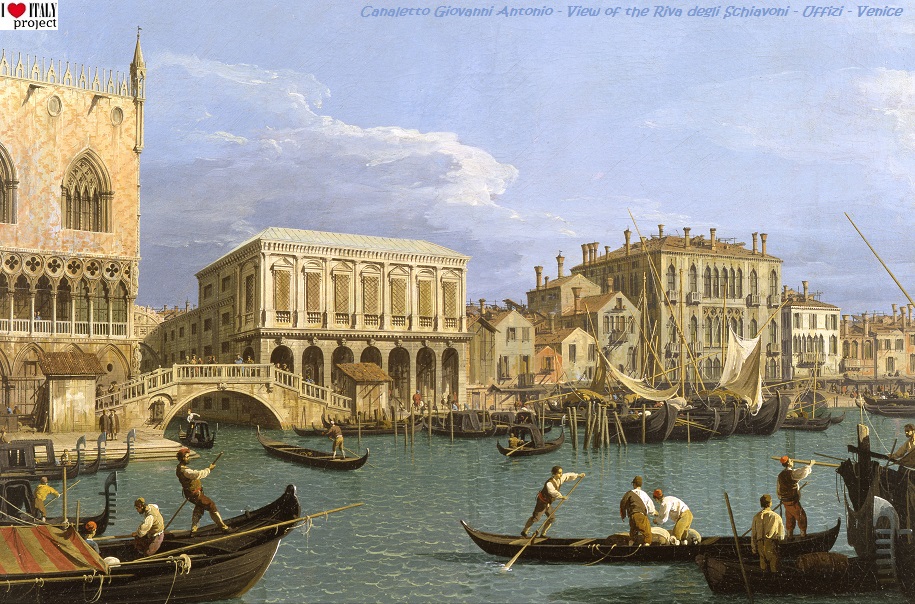 Starting from the 17th century the use of water as an element in works of art was widespread.
The famous fountains in Rome (the Four Rivers, the Bees, the Naiads) are architectural structures decorated with sculptures and jets of water.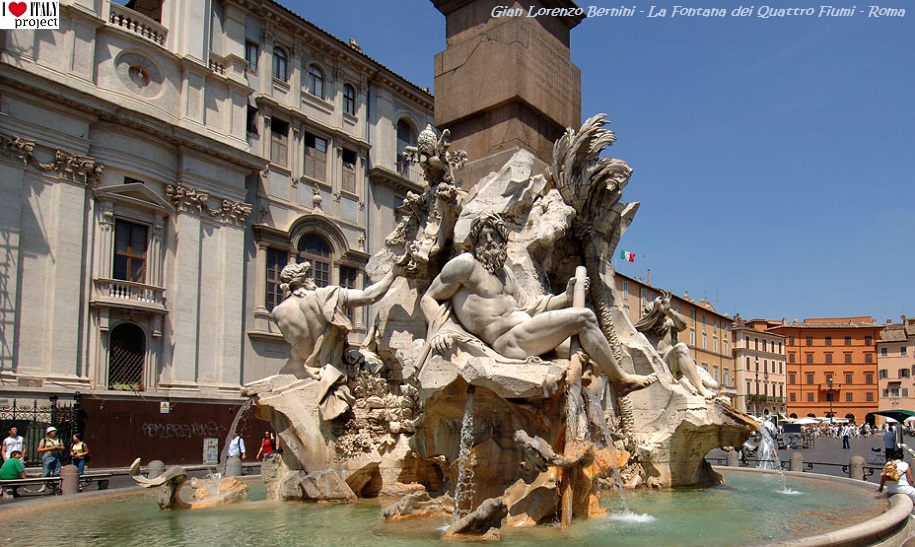 The Fontana dei Quattro Fiumi (Fountain of the Four Rivers) is located in Piazza Navona in Rome. It was designed by Gian Lorenzo Bernini in 1651, commissioned by the Innocent X whose family Palace Pamphili faced onto the piazza. The base of the fountain is a basin from the centre of which travertine rocks rise to support four river gods and above them, an ancient Egyptian obelisk surmounted with the Pamphili family emblem of a dove with an olive twig. Collectively, they represent four major rivers of the four continents through which papal authority had spread: the Nile representing Africa, the Danube representing Europe, the Ganges representing Asia, and the Río de la Plata representing the Americas.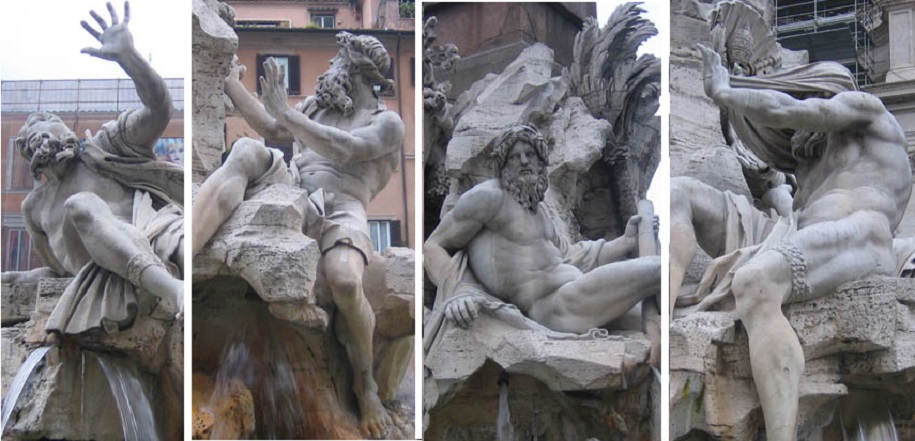 The Api ( Bees) Fountain by Gian Lorenzo Bernini
Fontana delle Api (Fountain of the Bees) located in the Piazza Barberini in Rome where the Via Veneto enters the piazza. It was completed in April 1644 and consists of marble bi-valve shell with three bees of the same material resting on it.
The fountain was intended to be a watering trough for horses.
The inscription on the shell reads, "Urban VIII Pont. Max., having built a fountain for the public ornamentation of the City, also built this little fountain to be of service to private citizens. In the year 1644, XXI of his pontificate."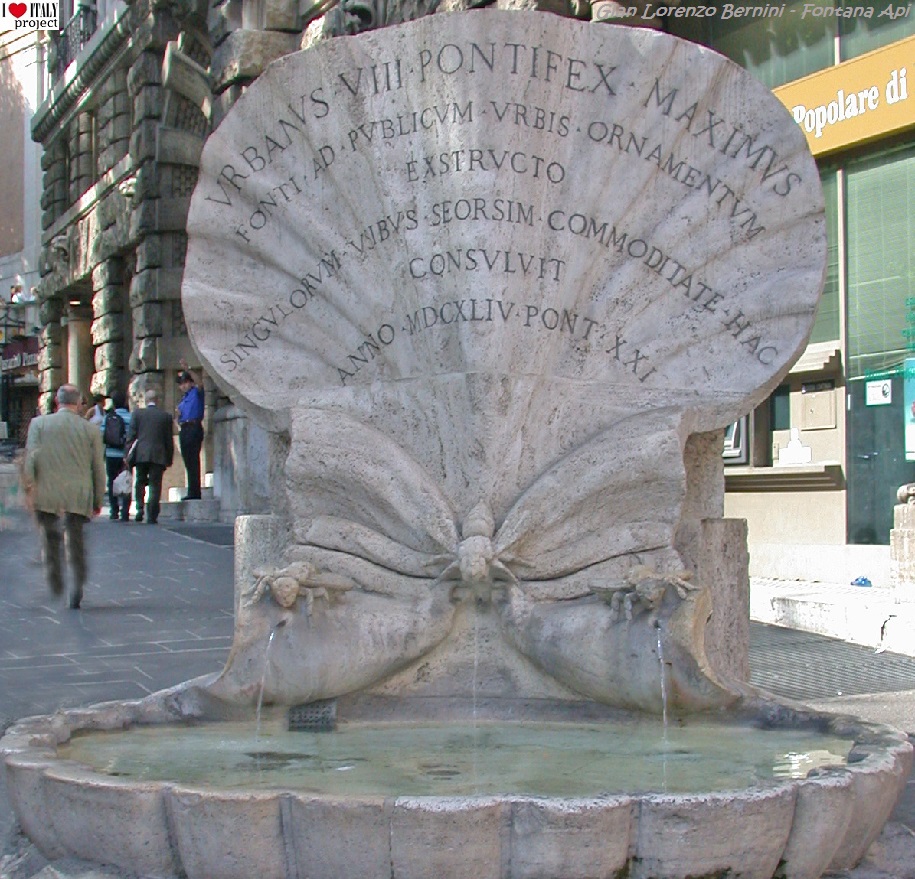 The Fountain of the Naiads in Rome, is located in Piazza della Republica. It was originally known as the "Acqua Pia' and was completed in 1870. The four sculptures depicting lions were consequently replaced in 1901 with those of Naiads by Mario Rutelli.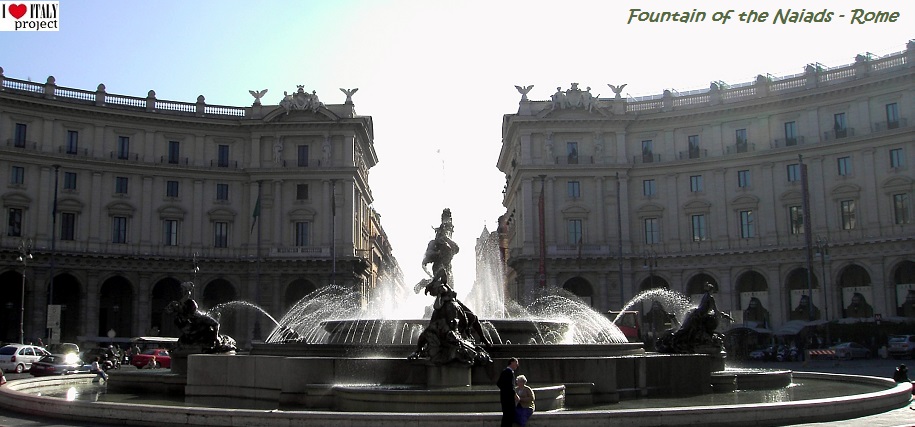 The naiads represented are the Nymph of the Lakes (recognizable by the swan she holds), the Nymph of the Rivers (stretched out on a monster of the rivers),...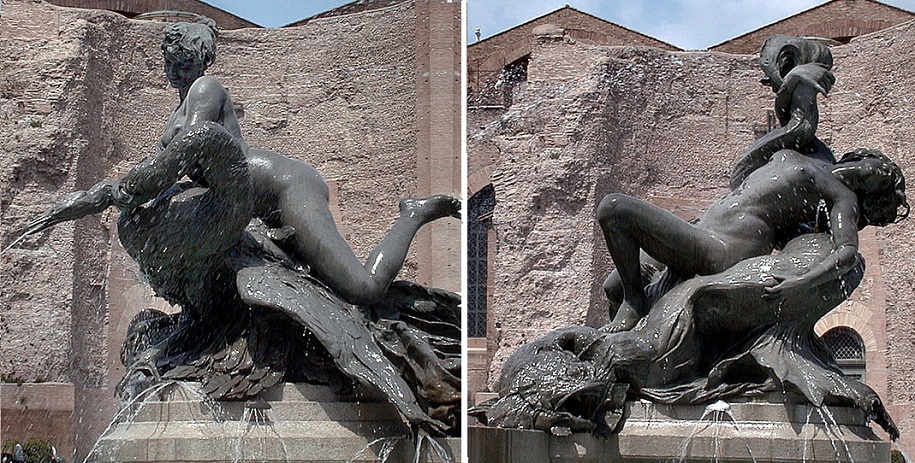 the Nymph of the Oceans (riding a horse symbolizing the seas), and the Nymph of the Underground Waters (leaning over a mysterious dragon).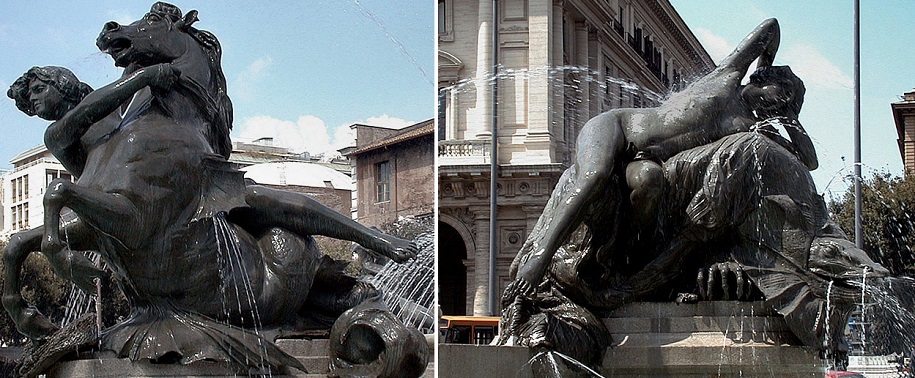 Gardens are adorned with pools, fountains and waterfalls, populated by deities and nymphs.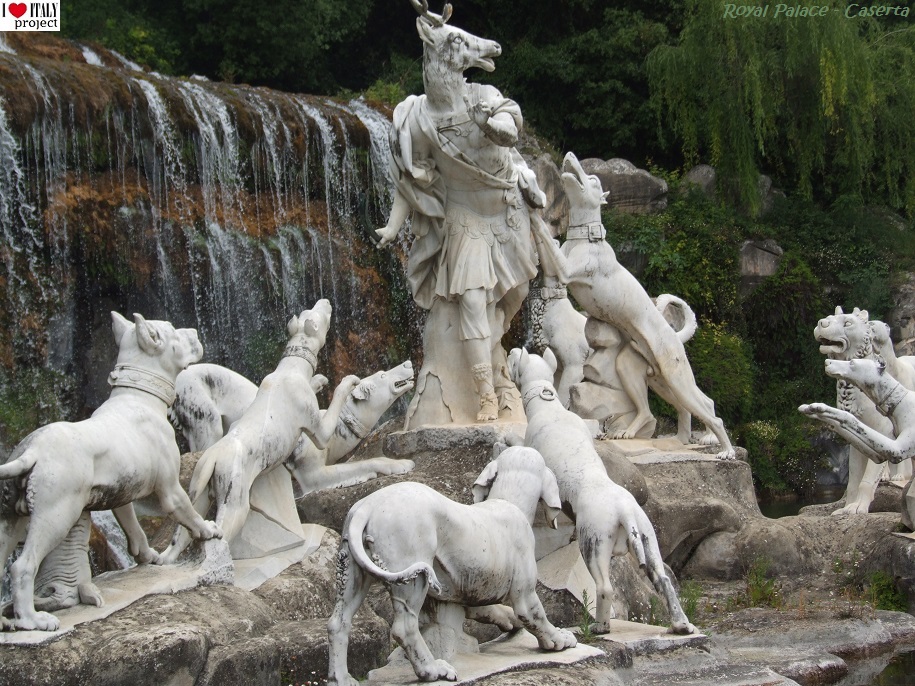 A beautiful example is the park of the Reggia di Caserta.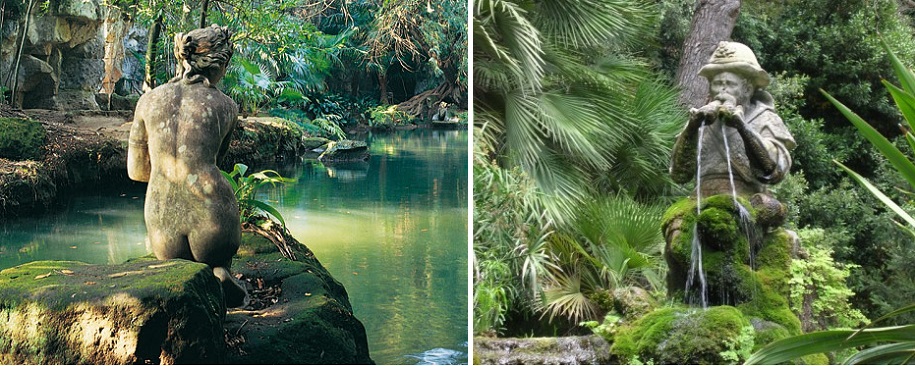 Other work of arts of the period are to be found in the following region and cities :
Left - Palazzo Spagnuolo - Naples - Right and below - Santa Maria della Salute - Venice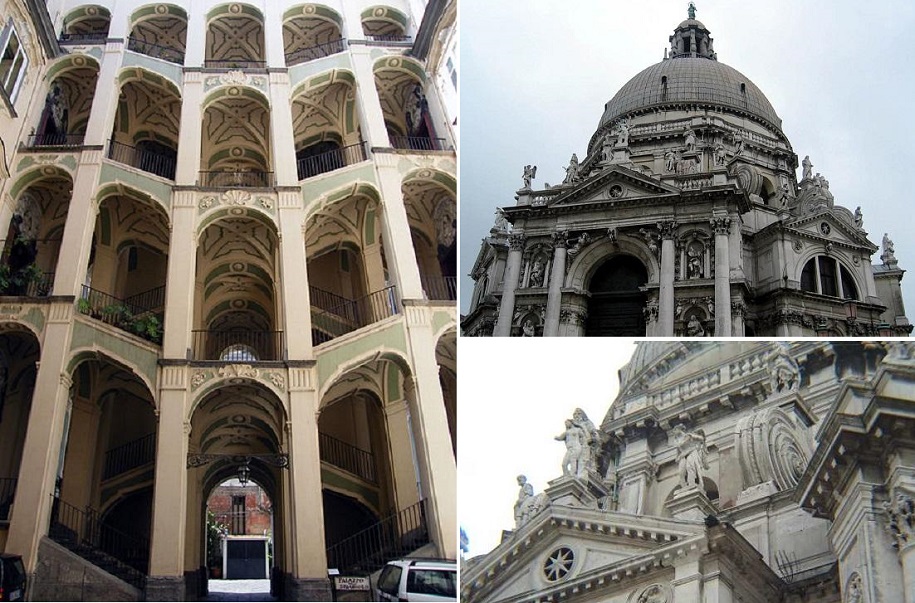 Torino (Turin) - Piedmonte

Chiesa del Carmine (F. Juvara)
Chiesa della Visitazione

(E. Lanfranchi)


Chiesa deita Consotata

(G.Guarini)


Corpus Domini (A. Vittozzi)
S. Andrea (G. Guarini)
S. Filippo Neri

(F. Juvara)


S. Francesco d'Assisi (B.Vittone)
S. Lorenzo (G. Guarini)
S. Teresa (A.Costaguta, F. Juvara)
Cappella della Sacra Sindone (G. Guarini)
Palazzo Carignano

(G. Guarini)


Palazzo di Citta

(E.Lanfranchi)


Palazzo Madama

(F. Juvara)


Palazzo Reate (F. Juvara)
Palazzo Carpano

(M. Garove)


Castello del Valentino

(C. di Castellamonte)


Piazza S. Carlo.

(C. dili Castellamonte)


Galleria Sabauda (Carracci, G. Reni, Guercino,
M. Preti, B Strozzi, S. Ricci, Tiepolo, F del Cairo.
Museo Civico (G.C. Procaccini, D. Olivero)


Stupinigi (Turin) Villa Reale (F. Juvara)


Milano (Milan)

S. Alessandro (L, Binaghi)
S. Giuseppe (F.M, Richini)
S, Antonio Abate (G. Rusnati)
S. Maria alla Porta

(F.M. Richini)


Palazzo Durini

(F.M. Richini)


Palazzo Cusani (G. Ruggeri)
Palazzo Litta

(F.M. Richini)


Pinacoteca di Brera

(Tiepolo, Canaletto, G. Ceruti, D. Crespi, G. Assereto, G. Guardi, Guercino, A. Longhi, T. da Varallo)


Musei del Castello (Tiepolo, G.C. Procaccini, Cerano, D. Crespi, A. Magnasco, F. Guardi)

Museo di S. Maria della Passione

(D. Crespi, F. del Cairo, Vermiglio)

SS.

Annunziata

(G.A.Ansaldo, B.

Strozzi

,

​L. Cambiaso, T. Carlone, D. Piola)

S. Anna

(Sarzana)


S. Marta

(F. Parodi)


S. Pancrazio (F. Schiaffino)
S. Sebastiano

(D. Solari)


Palazzo Balbi (G. Petondi)
Palazzo Universitario

(B. Bianco)


Palazzo del Podestir

(F. Biggi)


Palazzo Reale (C. Fontana)
Galleria di Palazzo Rosso

(L. Cambiaso, Sarzana, B. Strozzi, Grechetto)


Museo di architettura e scultura ligure
(F. Parodi, P. Puget, F, Schiaffino, L. Cambiaso)

Palazzo Bianco

(G. Assereto, G.B. Castello, Carlone, B. Strozzi, A. Magnasco)

Chiesa dei Gesuali (G. Massari)
Chiesa del Redentore

(C. Saraceni)


Chiesa dell'Angelo Raffaele (F. Guardi)
Chiesa della Maddalena (T. Temanza)
S. Maria della Salute

(B. Longhena)


Gli Scalzi (B. Longihena, G. Sardi)
S. Simone Piccolo

(G. Scalfarotto)


Palazzo Giustinian-Lolyn (B. Longhena)
Palazzo Pesaro (B. Longhena, A. Gaspari)
Palazzo Rezzonico (B. Longhena, G. Massari)
Palazzo Widmann - Foscari (B. Longhena)
Palazzo Labia (G.B. Tiepolo)
Scuola dei Carmini (G.B. Tiepolo)
Galleria dell'Accademia (F. Solimena, B. Strozzi, D. Fetti, Tiepolo, Piazzetta, S. Ricci,
A. Magnasco, F. Guardi, Canaletto)

Palazzo Rezzonico, Museo del
Settecento

(Tiepolo, P. Longhi, Canaletto, F. Guardi, l. Guarana, R. Carriera)

Vicenza

S. Marco (S. Ricci)
Chiesa degli Aracoeli

(C. Borella)


Palazzo Bonazzi (A. Pizzocaro)
Palazzo Cordellin a

(O. Calderari)


Palazzo Pagello (B. Scamozzi)
Villa Valmarana

(F. Muttoni, G.B. e G.D. Tiepolo)


La Rotonda (B. Scamozzi)


Museo Civico (G.8. e G.D. Tiepolo, F. Maffei, S. e M. Ricci, G.B. Pittoni, V.A. Cignaroli)

S. Lorenzo in Lucinia

(L. Bernini, G. Reni)


S. Agnese in Agone (F. Borromini)
S. Agostino

(L. Vanvitelli, L. Bernini, Caravaggio)


S. Carlo alle Quattro Fontane (F. Borromini)
S. Maria della Pace

(P. da Cortona)

S. Pietro in Vaticano (L. Bernini, A. Algardi, C. Fontana)
S. Andrea al Quirinale

(L. Bernini)


S. Giovanni in Laterano (F. Borromini)
S. Maria Maggiore

(F. Fuga)


Palazzo Doria

(G. Valvassori)


Palazzo Chigi

(G. Maderno)


Palazzo del Parlamento

(C. Fontana)


Palazzo Barberini (L. Bernini)
Palazzo Madama

(L. Cardi)


Vllla Albani-Torlonia (C. Marchionni)
Fontana della Barcaccia

(L. Bernini)


Fontana di Trevi

(N. Salvi)


Fontana dei Fiumi (L. Bernini)
Fontana del Triton (L. Bernini)
Trinita dei Monti

(F. de Sanctis, A. Specchi)


Piazza S. Pietro (L. Bernini)
Galleria Borghese (L. Bernini, Caravaggio, P. da Cortona, Barocci)
Galleria Nazionale d'Arte Antica

(Caravaggio, Canaletto, F. Guardi)


Galleria Doria-Pamphili

(A. Algardi, Carracci, Caravaggio, L. Bernini)


Pinacoteca Vaticana (Guercino, G. Reni, P. da Cortona, Caravaggio)


Chiesa dei Gesuiti

(F. Solimena, M. Stanzione)


S. Domenico Maggiore

(A. Corradini, G. Sammartino)


S. Maria degli Angeli

(F. Grimaldi)


S. Nicola alla Carita

(F. Solimena, F. De Mura)


S. Paolo Maggiore

(F. Solimena, M. Stanzione)


S. Filippo Neri

(L. Giordano, M. Stanzione, F. Solimena, G. Reni)


Cappella Sansevero

(F. Queirolo)

Guglia di S. Gennaro

(C. Fanzago)


La Nunziatella

(F. Sanfelice)


Palazzo Reale

(D. Fontana)


Fontana del Nettuno

(D. Fontana, C. Fanzago, L. Bernini, M. Naccherino)

Museo di Capodimonte

(G. Reni, G. Ribera, A. Gentileschi, A. Vaccaro, F. De Mura, F. Solimena,
F. Guarino, A. Magnasco, G.M. Crespi)


Museo di S. Martino

(M. Stanzione, G. Ribera, G. Reni, L. Giordano, B. Caracciolo, G. Lanfranco, A. Vaccaro, C. Maratta, M. Spadaro'S)


Museo Civico Filigeri

(A. Vaccaro, G. Ribera, L. Giordano, B. Caracc​iolo)

Caserta - Campania

Royal Palace - Reggia

(G. Vanvitelli)

Lecce - Puglia



S. Angelo

(Zingarello)


S. Croce (C. Penna)
S. Maria delle Grazie

(M. Coluzio)


S. Chiara (G. Cino)
S. Matteo

(A. Carducci)


Chiesa del Rosario (G. Zimbalo)
Chiesa del Carmine

(G, Cino)


Palazzo della Prefettura ( Zingarello)
Palazzo del Governo (G. Zimabalo, G, Cino)

San Giuseppe dei Teatini Cattedrale

( F. Fuga)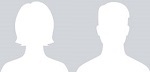 Work with us - Are You a tourist guide? Do you organize tours to northern & southern Italy? If the thematic is based on culture, history and outdoor activities, we would love to talk to you. Drop us a line.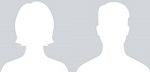 Se sei in grado di promuovere il tuo territorio con le sue produzioni enogastronomiche, le sue strutture ricettive e le sue bellezze storiche e artistiche, Made in South Italy può essere la piattaforma ideale per raccontare e rappresentare i "mille" territori italiani , ben consapevole che per farlo meglio e in modo completo ha bisogno della collaborazione di chi vive in quei luoghi, li conosce dall'interno e li sa rappresentare.​ Interessati?
La vetrina ideale per promuovere i vostri prodotti e servizi sul mercato Nord Americano ma che potrebbe essere un punto di visibilità anche nei vari mercati internazionali.

---
Paesi di provenienza dei visitatori in ordine numerico
Stati Uniti - Canada - Italia - Gran Bretagna - Australia - China - Germania - Francia - Nuova Zelanda - Olanda
Coloro interessati ad inserire la loro attivita'/azienda/ nel sito
sono pregati di mettersi in contatto usando il modulo soprastante...per saperne di piu'