Built between 1602 and 1613 from the Dominican Friars on a project of Fra' Nuvolo, this Baroque church is located in the Sanità neighborhood once known as the Valle dei Morti (Valley of the deaths) .The construction presents a majolica tile cupola covering, a greek-cross plan, a particular volumetrical implant made of 24 pillars, chapels and small cupolas.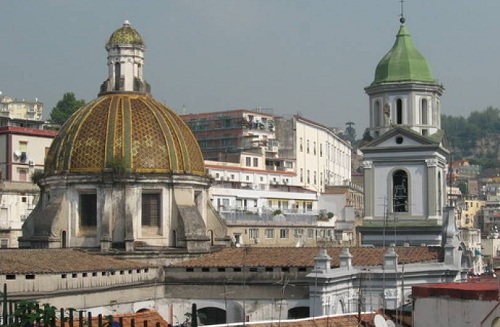 The interiors present many pictorial artworks of Luca Giordano, Andrea Vaccaro, Agostino Beltrano as well as marble and stucco decorations.
The main altar can be reached climbing a double-ramp stairway. The San Gaudioso catacomb (an ancient early Christian cemetery area) can be reached from the presbyterial area.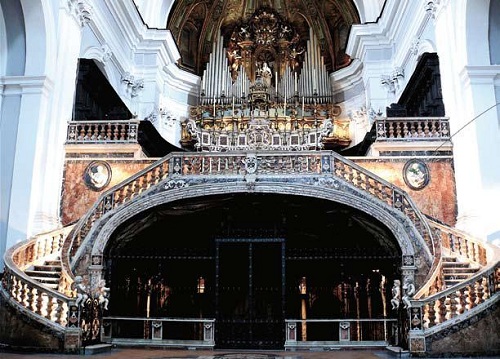 The cloister, with its elliptical plan characterized by pillars with upper arches and decorations that portray moments of the friars' life, is very peculiar.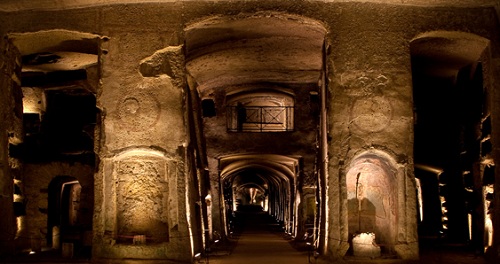 The planimetry of the small cloister was radically changed when the Corso Napoleone in 1810 was opened, since the new way had one of its pillars in the space underlying the cloister.
Below are the catacombs of San Gaudioso who arrived in Naples in A.D. 439, because of the persecution of the Arian King of the Vandals, Geiseric. A distinguishing element is the burial of the dead skulls recessed into the walls of the ambulatory and the opening a new area below the catacombs, for the realization of so-called "seditoi", or "gutters", seats carved into the tufa on which the dead were laid to dry before being placed in an common ossuary or a private grave.
On either side of the ambulatory open cubicles with valuable paintings arcosolia containing Christian symbols like the lamb, the peacock and grapes (V Century).
http://www.santamariadellasanita.it
---
Source : Assessorato al Turismo e ai beni culturali - Regione Campania - www
Source : Catacombe di Napoli - www
---
- Naples Main Attractions -
Basilica Carmine Maggiore | Basilica St Chiara | Basilica St Francesco di Paola | Basilica St Paolo Maggiore | Basilica St Maria della Sanita' | Chiesa del Gesu' Nuovo | Chiesa St. Domenico Maggiore | San Gennaro Cathedral | San Gregorio Armeno | St Angelo al Nilo | St Giovanni a Carbonara | St Lorenzo Maggiore | St Maria Anime al Purgatorio | St. Maria Donnaregina Vecchia | St Maria Donnaregina Nuova | St Pietro a Majella | Museum Cappella Sansevero | Naples Galleria | Vulcano Vesuvio | Naples underground | The Catacombs |
The Islands - Sorrento Coast - Amalfi coast - The Hamlets in Campania - Museums - Archaeology Sites - The region - The provinces - Napoli - Caserta - Salerno - Avellino - Benevento
---