Soriano Calabro is a comune (municipality) in the Province of Vibo Valentia in the Italian region Calabria, located about 45 kilometres southwest of Catanzaro and about 15 kilometres (9 mi) southeast of Vibo Valentia.

The town was founded by a group of monks composed mostly of Syrians and also Egyptians who migrated to the Italian peninsula in the 10th century.
The monks were permitted to settle in three different places, in Lazio, Sicily and Calabria.

Those who settled in Calabria founded the town of Soriano Calabro, originally naming it Soriano, which was taken from the name of the country Syria (سوريا sūryā in Arabic) and hence meant 'Syrian', which at that time in Italian was written as 'Sòriano'.​Soriano Calabro in the province of Vibo is a little town renowned for its hard biscuits known as Mostaccioli, also called "mastazzola", "mustazzoli" of various shapes, decorated with coloured tin foil. The most common traditional shapes , known as "a parma", "u panaru", "a grasta", "u cori","u pisci spada","a sirena"; (the palm, the basket, the heart, the swordfish and the siren).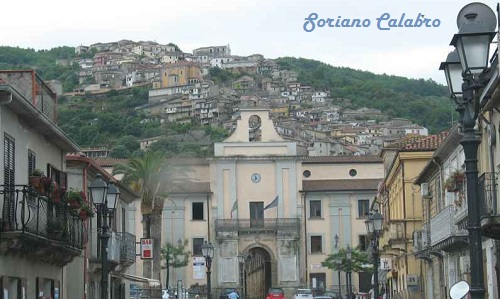 The mostaccioli, these scented sweets, have always been the protagonists in the Calabrian fairs and a great importance for the local economy. Their origin is a ritual one, when the mustaccioli was used as a offering to the devoted saint "per grazia ricevuta" ( for favors received). Local fairs and other festivities were always memorable events.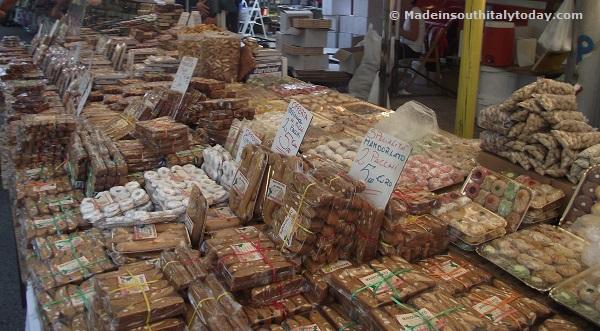 Among the stalls, erected for the occasion, an important place was occupied by the so-called 'mastazzolari" vendors of typical calabrian sweets, they were to be found (still today) everywhere there was a town fair or a market.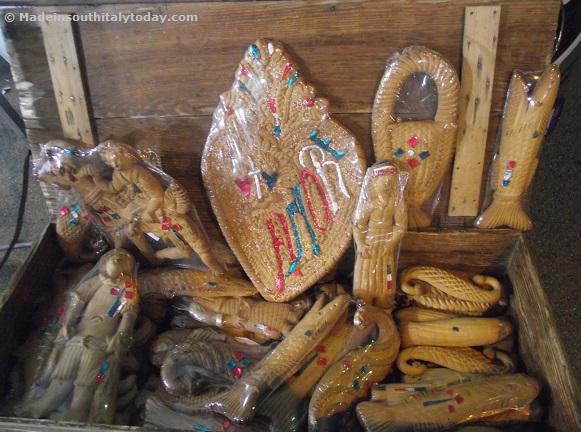 They used to carry with them a very special chest... a treasure trove of shining colors, amber and gold, silver and green and red ...and a lingering scent of honey and wine must ...theirs was for kids a special stall indeed.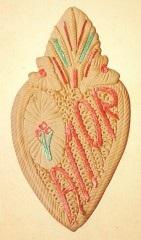 The shapes of mostaccioli represent forms of anthropomorphic animals, flowers, saints, hearts, fish, mermaids, goats, roosters, baskets, horses etc. The heart-shaped mostaccioli, decorated with strips of red foil symbolizes love and was usually given as a gift at engagements, weddings and other celebrations of love.
Because of their deep cultural values and 'folksy' artistry, beautiful relics are exposed at the Museo del Folclore di Palmi, Museo delle Arti e Tradizioni Popolari in Rome and il Centro del Folclore in Soriano.
Legend says that the secret recipe was given to the people of Soriano by a mysterious monk to thank them for their generosity,..and who then disappeared in thin air. For the record, however, the introduction of mostaccioli is attributed to the monks of the nearby San Bruno Certosa, (convent) and then, later, around 1500, the Dominicans of the convent of San Domenico, who would have taught the art of pastry to local artisans.
Products are available in Canada....find out more