The Coast of the Gods (La Costa degli Dei) - Among the coastal areas of Calabria is certainly the most famous and popular, with places such as Tropea and Capo Vaticano.
The Coast of the Gods or Costa Bella, the name by which was named the Southern Tyrrhenian coast, is entirely within the province of Vibo Valentia.
It 's the part of the coast that define the so called "horn of Calabria", a 55 km long section which presents a varied morphology. With long white beaches and rugged cliffs with small coves accessible only by foot or boat.
The Cost is so called "Bella" for the beautiful landscape and the nearby Aeolian Islands, (Sicily), of the Gods, because evokes ancient Greek mythology.

White beaches, and a transparent sea bed alive with stunning forms. For a diver nothing more suggestive then diving in the unique marine flora and fauna.

To visit: Pizzo Calabro, Tropea, Nicotera, Joppa, Coccorino, Tropea, San Nicolò di Tropea, Santa Domenica, Vibo Marina.

Tropea with its magnificent beaches, the beautiful Blue Grotto and its 12 churches; Parghelia with Pizzuta, so 'called for granite pinnacles that emerge from the sea and white beaches alternating with picturesque cliffs; Zambrone, beaches reminiscent of tropical countries and the rock of Galera, full of cavities' and cells.

Pizzo Calabro: A fishing village and seaside resort overlooking the sea in the picturesque and strategic location along the coast of the Gulf of San'Eufemia.
Built in Dark Ages, according to some sources on the site of Napitum, and known for the Murat Castle and famous for the homemade ice cream ( tartufo) and the spaghetti with squid ink.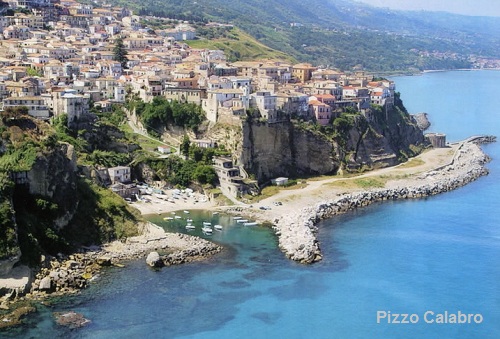 Tropea: Well known nationally and internationally. From its marina you can easily reach the Aeolian Islands (Sicily) and the volcanic Stromboli, almost always visible from the Tyrrhenian coast of Calabria South. Festival of the blue fish in July and its unique red onion.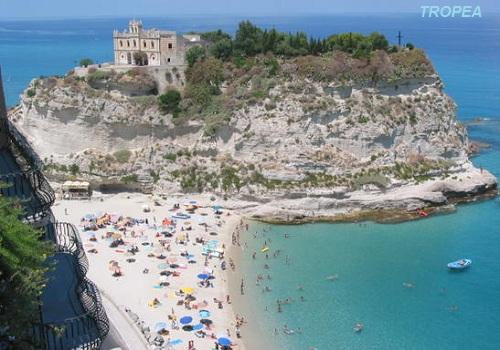 Laid out on a promontory, Capo Vaticano is located in front of Stromboli and the Aeolian Islands (Sicily).
The picturesque beaches and crystal clear sea bed rich in fish makes Capo Vaticano a destination for divers, both Italians and foreigns, attracted by its beaches and fascinating hinterland, offering typical products such as the Nduja' from Spilinga and a variety of cheese such as Pecorino del Poro.
Beach of Santa Domenica - Ricadi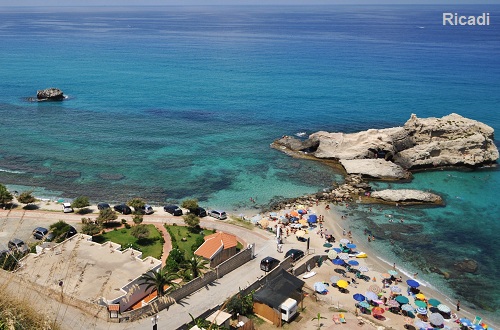 How to get there:
By Car : A3 Salerno-Reggio di Calabria motorway- SS18
By Plane: Lamezia Airport - Distance 60 km
By train: Lamezia train station - Distance 60 km
Accomodation: 173 structures-18,488 beds.
---
Find out more about the Coasts & beaches | Violet Coast | Jasmine Coast | The Orange Coast | The coast of the Saracens | The coast of the Achei
---